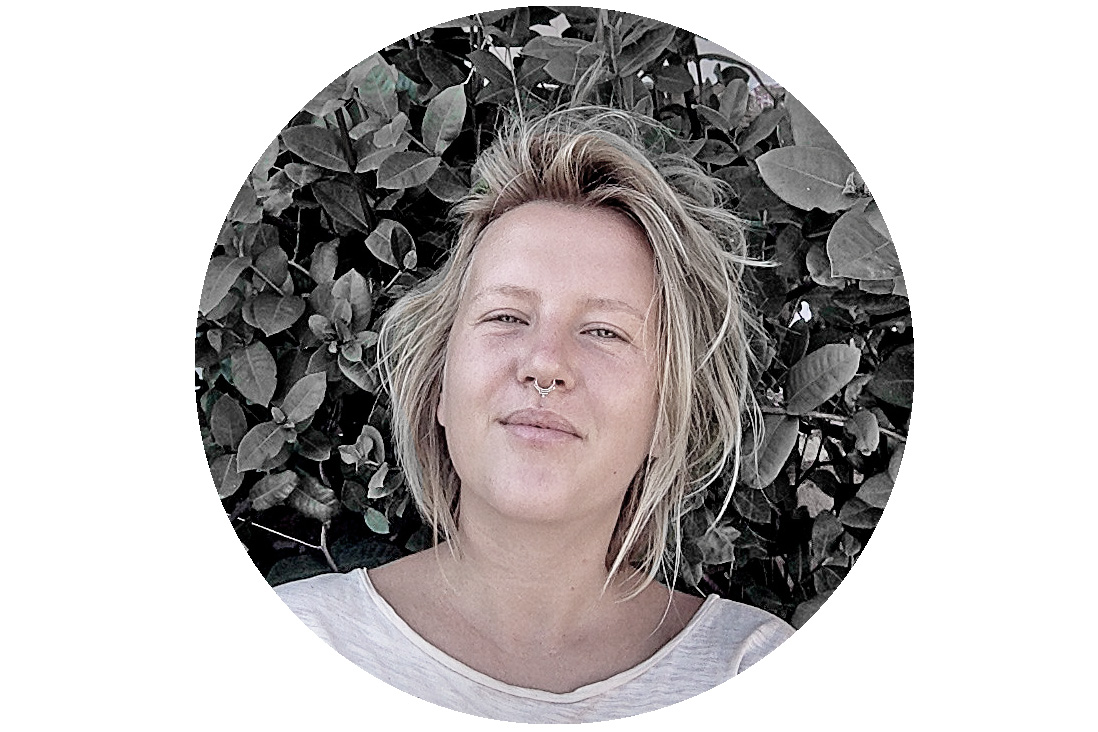 Hi! My name is Jio Maia!
(My birth name is Julia)

I'm a bit of an introvert with some exceptions in the right settings. 😇 I am a bit crazy over dogs and cats, I love dancing at conscious dance events, I write in my diary A LOT (sometimes I record voice memos instead) and I enjoy going on long walks. I've been pretty nomadic most of my life. I was born in Russia, moved with my mum to Portugal when I was 9 years old, spending my teenage years in Algarve and then studying for 4 years in Lisbon.
I have been doing art most of my life. After finishing Art School, I decided to study Architecture. The first year was great and then it got super technical and boring so I switched and restarted with a Painting Bachelor's Degree in the Fine-Arts University in Lisbon. I fully immersed myself in Oil Painting and figure drawing for 3 years and then I discovered tattooing! I fell in love with it immediately and decided to drop off from my studies and solely focus on tattooing. I started tattooing in 2012 and this became my main artistic expression.
✨🎉THIS YEAR I'M CELEBRATING 10 YEARS OF TATTOOING! 🎉✨
I tattooed in Portugal for a while and then moved to Berlin, Germany in 2014. However I quickly realised that the winters in Germany are pretty miserable, so I would always travel somewhere warm for the winter – India, Hawaii, California, Mexico, Guatemala, Ecuador. 
In the end of 2021 I became a mom to a sweet baby boy and for now I've settled in Berlin, hoping to one day travel again!
MY TATTOO STYLE AND APPROACH 
There is something so special about the whole process of creating an art piece that lives on and changes with my clients, that is painful to receive and yet so enjoyable to 'wear'. I am deeply touched by you being touched by my art. 🥰 I receive so many messages of people sharing just how much my work speaks to them, to something deep inside them that they couldn't find words for. 
In the past four-five years, I've developed this unique style that you probably know me for – it can be called as Line work, Line Art, Chaotic Blackwork (it's hard to name it). I combined my knowledge of the human form, my experience with realism, drawing portraits and figures, with an exploration of lines, a more expressive, intuitive and abstract way of drawing. 
 
The themes that I explore are topics that are very dear to my heart – self-love, spiritual awakening, body acceptance and human connection. And I love playing between minimalistic and delicate AND very chaotic and dark designs. I also bring a lot of awareness into how my designs flow with the body, how the tattoo relates to the body's shapes and curves.  
I work in two ways:

I either create unique custom designs by collaborating with my clients, where they give me a direction, an idea, show me previous works of mine that they love most and I take it from there. In this case. In this case the design is only for them and will not be replicated, unless is agreed upon with them.
The second way is creating Flash designs. This is mostly how I created and gave direction to my style, by drawing designs that I truly loved and that excited me and proposing them to people, posting them online until somebody would truly resonate with them and want to tattoo them. 
If you have more questions, there is more info at the FAQ page.  
SELF-EXPLORATION JOURNEY

I try not to burn out with tattooing, so I take long breaks off to refresh and recharge. Right now I'm on a long break taking care of my baby and getting to this new lifestyle as a mother. But usually I also spend a lot of time on my personal and spiritual growth. In the past 7 years, besides all the traveling and getting to know new cultures,  I've attended many retreats, trainings and workshops on meditation, yoga, tantra, self-realisation, self-empowerment and sexual healing. I've studied with different teachers and schools, including Mooji, Sadhguru, Bentinho Massaro, Layla Martin, ISTA, Embodied Intimacy. Plus I've spent quite a lot of time visiting and living in different intentional communities around the world and I am very interested in community building and living. Check out Tamera as an example and one of the leading communities.
If you wish to know more about my personal journey, you can follow my personal Instagram.


And here is an oldie but goodie – video of me sharing my journey of becoming a tattoo artist: